dollarone
• on
1st Alakajam!
Right - we are way over halfway and while the game IS coming along, this is usually the point where I start questioning my life choices, or atleast the scope of the game.
This time I've really really (honest) tried to go for a smaller game, but there's always the temptation to add stuff - even before the core gameplay and art has been done. I'm trying not to do this. The excellent news is that my team-member from my crowdforge post has come through and already sent an excellent and extremely fitting song for the game!
Meanwhile I've been trying to produce some art, it's hard, but it's coming along, slowly. There's still lots more to do, and animations, ideally - oh dear, animations are time sinks, aren't they?
Speaking of art, I expect there will be a lot of cauldrons in the games we make for the first alakajam. I've made one, and I even animated it: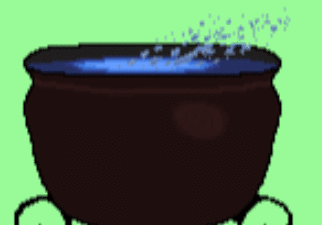 Good luck tomorrow everyone!