Beauty and the goldfish
Story
This game tells a story of a little goldfish that eagers to make impression on the one it loves. It's dreamfish lives on the bottom of the ocean, so little goldfish jumped into an old underwater helmet and went down. Along the way goldfish needs to collect money and buy decor for the helmet, otherwise it's love will reject it.
Gameplay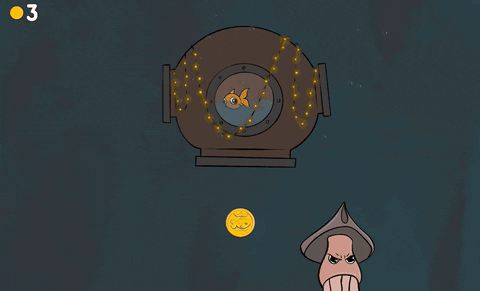 Smash the goldfish into the helmet to move left and right (Controls: A and D).
Collect coins, avoid enemies who will take your money, and decorate your helmet in the name of love. If main hero's love interest will like what it sees, then you win!
Leader board
To submit your high score, take a screenshot of your family budget. It would appear at the end if you succeeded with the primary goal.
Good luck to you!
---
Updates:
Fixed bug that caused swarm spawning of the enemies in some situations. Because of that sometimes it was impossible to get to the end of the game.
Fixed pirate difficulty on the late stage. Because of this issue it was impossible to get all of the decorations, thus win the game.
Fixed bug that caused blowfish to throw you away from the playing area in some situations. It was impossible to proceed the game in that case. Also tweaked the balance so that the decorations are harder to get. Without it one of the endings is almost certainly missed and second half of the game is boring and pointless. Opened the leaderboard.