Story
You are an experienced captain who got out into an unknown environment in an ocean. You crave battles. Your goal is to sink as many pirate's ships as possible!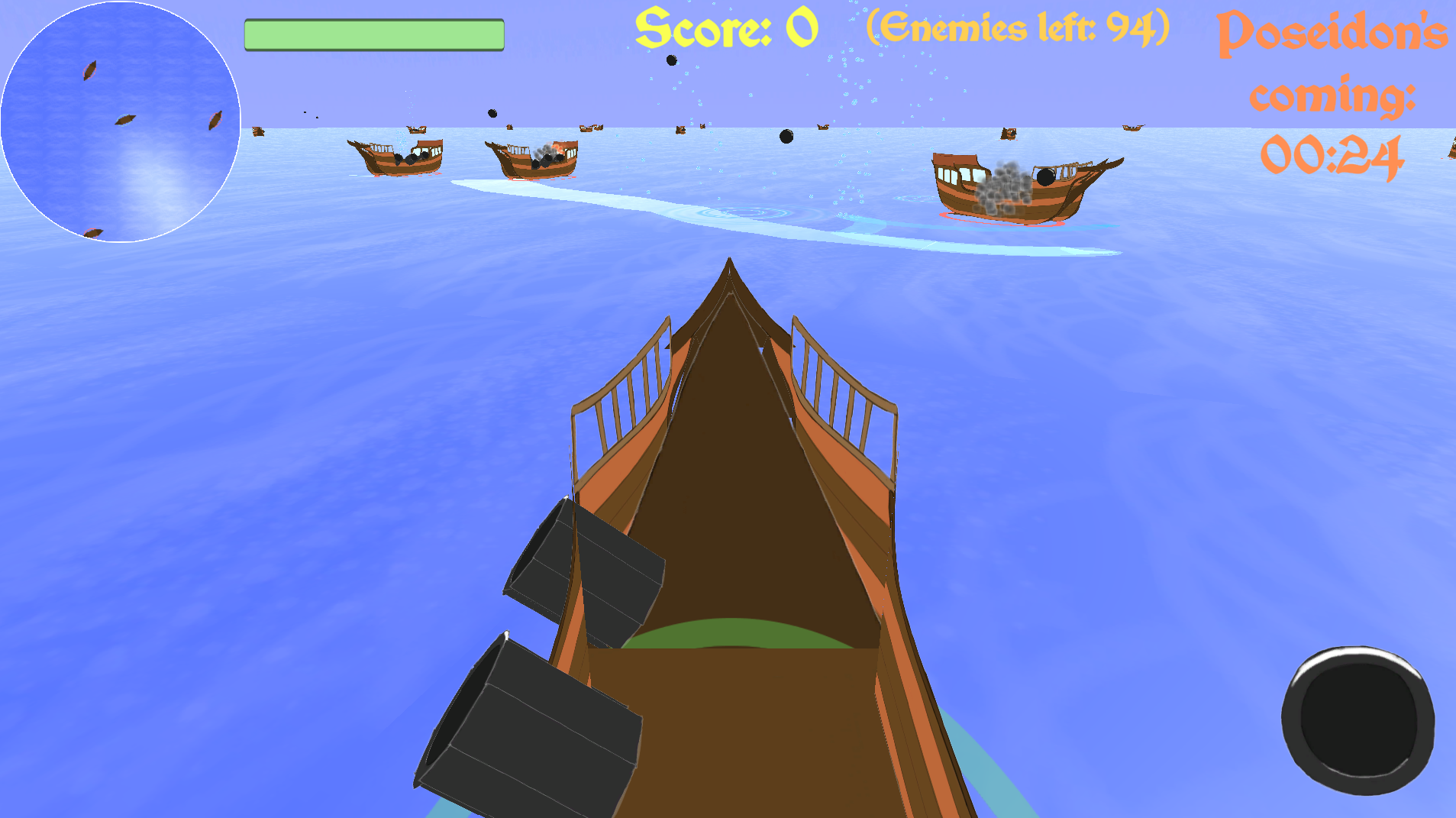 Gameplay
The core gameplay is just move through the ocean, find enemy's ships and destroy them with you cannons. And be careful - enemies are dangerous!
There are two modes:
sailing. You are controlling the ship as 3rd person view.
battle. You are control 3 of cannons to shot into enemies
You can be only in one mode at time. You can swith between modes by clicking in icon at right bottom corner
If you sink enemy's ship, you get score.
There are 100 at all (and plus your's). The game is over when all ships are sinked. If you are alive - you win! If you got shot - you lose :( But anyway, try reach as many scores as you can.
And, like every seasoned captain, you always have a MAP! It's at left upper corner. There you can see the neares enemies - it gives you the posibility to anylize situation, and attack or escape depending on it!
---
But, the battle of hundreds of ships causes an incredible amount of noise… It infuriates Poseidon! Therefore, as his patience runs out, you will watch as CHAOS begins to reign in the ocean. I will not say what will happen, you yourself will see everything - the corresponding panel appears while the chaos is happening.
Chaos timer can be seen at right upper corner
Enemies
Generally they are not aggressive. The attack you only if you in their detection radius. When you leave it - they left you. But their shots may be pretty accurate! Furthermore, if there are several enemies attacking you - you are in great danger, so be careful! Also enemies are fighting with each other
Control
sailing mode: WASD to move / rotate.
battle mode: Mouse click on one of three cannon and rotate if with mouse. Once you touch the cannon, the power scale appears - release mouse to shot with current power.
press Mode switching button at the right bottom corner to switch between modes
---