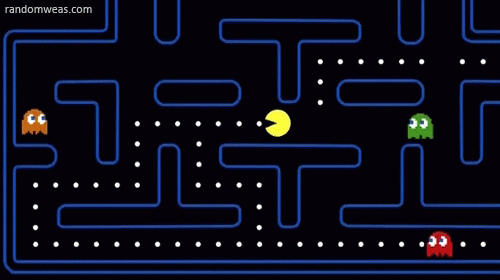 Rise of the robots
Improvise, adapt, and overcome! Or at least, tell a computer how to do that. Yes, the 4th Kajam's theme is Artificial Intelligence.
AI has been used in games since at least the early '70s, becoming more popular with classics like Space Invaders (1978) and Pac-Man (1980). Genres —like RTS and FPS—from the '90s brought the development of AI in games to a new level, and with more recent titles like the Half-Life episodes we started to see quite convincing cooperative AI.
Your mission—should you choose to accept it—is to create a game using AI in some way. It doesn't have to CRUSH ALL HUMANS be particularly complicated: if you're stuck for ideas, try tweaking your path-finding algorithms; creating a novel NPC; or just making a really hard-to-beat opponent. If that doesn't suit you, other takes on the theme are very welcome too! (Edit: In particular if you'd rather make a game where the player has to write the AI, that's also fine!)
Schedule
March 29th - April 23rd: The jam. Make a small gam, trying to focus on AI in ways you might not have done before. Spend as much or as little time as you want, and work with others or alone. There are no rules, so just try to have fun!
April 23rd - April 30th: Feedback time! For a whole week, all entrants can play and rate other people's games. Try to give encouragement for things that went well, and useful suggestions on what to improve.
April 30th: The results!
For inspiration